Share to: https://www.facebook.com/NubianRFID/ twitter
Printable Proximity Card - 26bit H10301 compare to HID ISOProx 1386LGGMN 1586LGGMN HID proximity card
Size: 2.125" x 3.37" x 0.030"
Facility Code:0~255
Card Number: 0~65,535

[email protected] (response in 12 hours)
This Printable Proximity Card is compatible with HID® 1586 ISOProx® II and is programmed with 26 bit format H10301. This item is programmed to your specifications and is designed for access control, event security, and time & attendance tracking. It includes a Limited Lifetime Warranty against errors in manufacturing. Save up to 60% with our high quality products over other brands.
The Nubian printable card offers standard proximity technology and photo identification capability on a single card. It is ISO 7810 compliant, with a nominal thickness of .030", is 2.125" wide and 3.37" tall. The card features a graphics quality glossy surface optimized for Photo ID printing, and can be slot punched in the vertical (short side) or horizontal (long side) with lightly printed dots marking positions.
This Proximity Card is in the popular standard 26 bit format H10301. The internal Facility Code can be any number between 0 and 255. The internal Card Number can be any number between 1 and 65,535. Please email us if you need help determining the correct Facility Code or Starting Number.
Related Products below products are compatible with the 26 bit H10301 format. Perhaps you would like the convenience of being able to use a KeyFob on a keychain or Wristband that matches your card.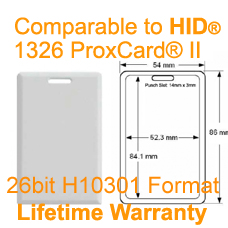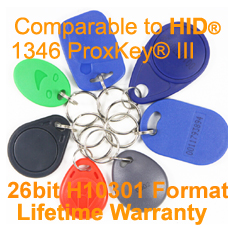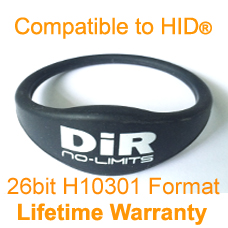 26bit HID compatible clamshell card 26bit HID compatible proximity keyfobs
Standard orders typically ship within 24 hours with DHL Express, Priority, or First Class, worldwide shipping.
With a commitment to excellent customer service, and the best prices in the industry, Nubian-RFID.com will help meet your Access Control and Security needs. If you have any questions or need help ordering, please email us
[email protected]
NUBIAN INTERNATIONAL RFID product customization and manufacturing services.
Providing PVC cards, RFID contactless cards, RFID token,
RFID wristbands, RFID key fob, tags & labels and RFID antenna customization.
Nubian- RFID tags are leaders in durability and reliability in the industry and will exhibit a positive ROI. Our RFID products fit any application or situation including:
RFID Access Control card, Key Fobs, badge, Wristband
Live show event and Music Festival RFID ticket & wristband
Guard Tour Patrol system RFID Checkpoint Tag Token
Universal & Universal Mini Asset Tag (Mount Anywhere)
Library RFID books label tag
NFC Tags (Near Field Communications)
NFC Tags for NFC enabled Bluetooth speaker and headset
Onsite Printable Tags
Durable Universal Hard Tags for Harsh Environments
Nubian-RFID had launched Proximity Credentials including 8 Formats save your cost:
26-bit H10301 comparable to HID®
26-bit 40134 comparable to INDALA®
26-bit AWID format compare go GR-AWID®
34-bit Honeywell(Northern) Quadrakey®
35-bit comparable to HID® Corporate 1000
37-bit H10302 comparable to HID®
37-bit H10304comparable to HID®
40-bit C10106 comparable to GE CASI-RUSCO®
Offering RFID tags and labels in a variety of different sizes and styles.
We offer both preprinted and on-site printable RFID options to accommodate any type of tracking or work-in-process application.
No matter the size of the asset we have a label option to fit your needs or can custom design a solution to fit the exact specifications. We offer a wide array of UHF UCODE 7 Gen2 & Aline H3 RFID tags that will work and perform well in any implemented RFID system.
Our wide array of RFID tags provide great read range and application flexibility with the ability to be placed on any type of surface: metal, glass, wood, plastic, cardboard