Share to: https://www.facebook.com/NubianRFID/ twitter
RFID dual frequency chip card
RFID dual chips card is dual frequency RFID transponder . Available a pair of Proximity chips, NFC chips with customized printing. These dual frequency ID cards used for RFID access control in resort. Trade show badges, marketing events and membership.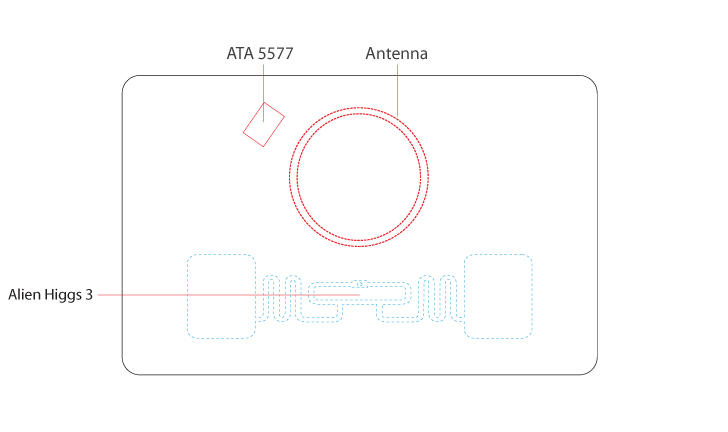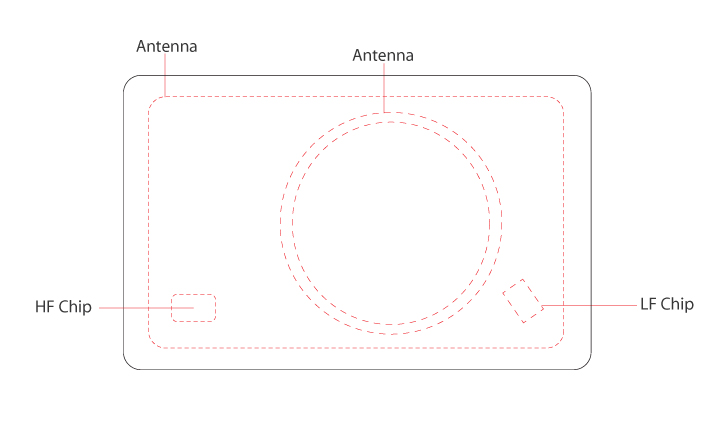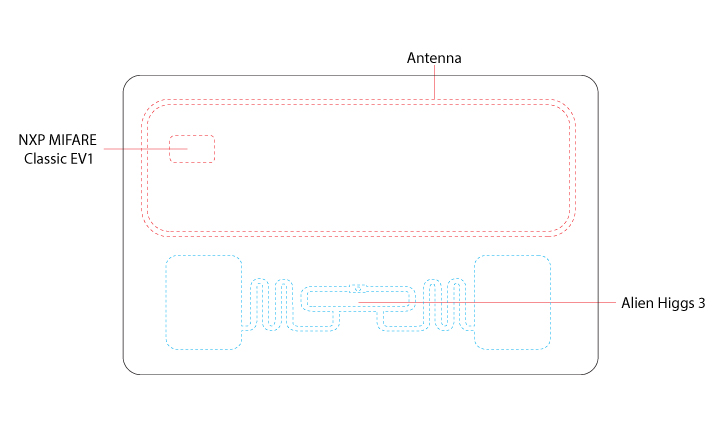 Material: PVC / PET

Dual chips CR80 card: LF+HF, HF+UHF or LF+UHF

Dimensions: CR80 86 x 54 x 0.8mm(± 0.4mm) or customize 0.54mm

Printing: 4-colours offset printing, Pantone Colors and Metallic color silk-screen printing. (as per design required)

Available Crafts: Glossy, Matt, Frosted finished, UV varnish
Magnetic Strip (LoCo: 300oe, HiCo: 2750oe / 4000oe)
Signature Panel and Scratch Panel
Bar Code in different types(39/ EAN 13/ EAN 128...)
Hot Stamping Gold/Silver color
Hologram as required
Personalization: Emboss, Laser Engraveing, UV, Injet or Thermal printing Card Number, member name & photo & expiry date etc.

Chip Frequency: 125KHz LF, 13.56MHz HF and 915MHz UHF

Available RFID Chip types:

125 KHZ Low Frequency

TK4100 ISO/IEC 18000-2
T5577 ISO/IEC 18000-2
EM4100 ISO/IEC 18000-2
EM4200 ISO/IEC 18000-2
EM4305 ISO/IEC 11784/11785
Hitag 1 ISO/IEC 11784/11785
Hitag 2 ISO/IEC 11784/11785
Hitag S256 ISO/IEC 11784/11785
Hitag S2048 ISO/IEC 11784/11785

13.56 MHz HF TAGS

Mifare Class 1k S50 ISO/IEC14443A
Mifare Class 4k S70 ISO/IEC14443A
Mifare Desfire 2k D21 ISO/IEC14443A
Mifare Desfire 4k D41 ISO/IEC14443A
Mifare Desfire 8k D81 ISO/IEC14443A
Mifare Ultralight EV-1 ISO/IEC14443A
Mifare Ultralight C ISO/IEC14443A
F08 (Mifare 1 Compatible) ISO/IEC14443A
F32 (Mifare 4K Compatible) ISO/IEC14443A
I-CODE 2 ISO/IEC 15693
I-CODE SLI ISO/IEC 15693
I-CODE SLI-X ISO/IEC 15693
I-CODE SLI-S ISO/IEC 15693
I-CODE ILT ISO/IEC 15693
SRI 512 ISO/IEC 14443B

NFC chip:
NTAG 203 ISO/IEC14443A
NTAG 213 ISO/IEC14443A
NTAG215 ISO/IEC14443A
NTAG 216 ISO/IEC14443A

915MHz UHF TAGS

Ucode Gen2 ISO/IEC1800-6C
MONZA 4 ISO/IEC1800-6C
MONZA 5 ISO/IEC1800-6C


NUBIAN INTERNATIONAL RFID product customization and manufacturing services. Providing PVC cards, RFID contactless cards, RFID takens, RFID wristbands, RFID keyfobs, tags & lables and RFID antenna customization.
Our mission is to offer highly competitive worldwide pricing backed up with exemplary quality and service that is unrivalled in the RFID industry.