Share to: https://www.facebook.com/NubianRFID/ twitter
Single-use RFID PVC Wristband
One-off PVC RFID bracelet is a waterproof RFID transponder . Available in kinds of Proximity chips, NFC chips with attractive colors and sizes . These wristbands used for one-off RFID access control in resort, Sauna, SPA. Trade show badges, marketing even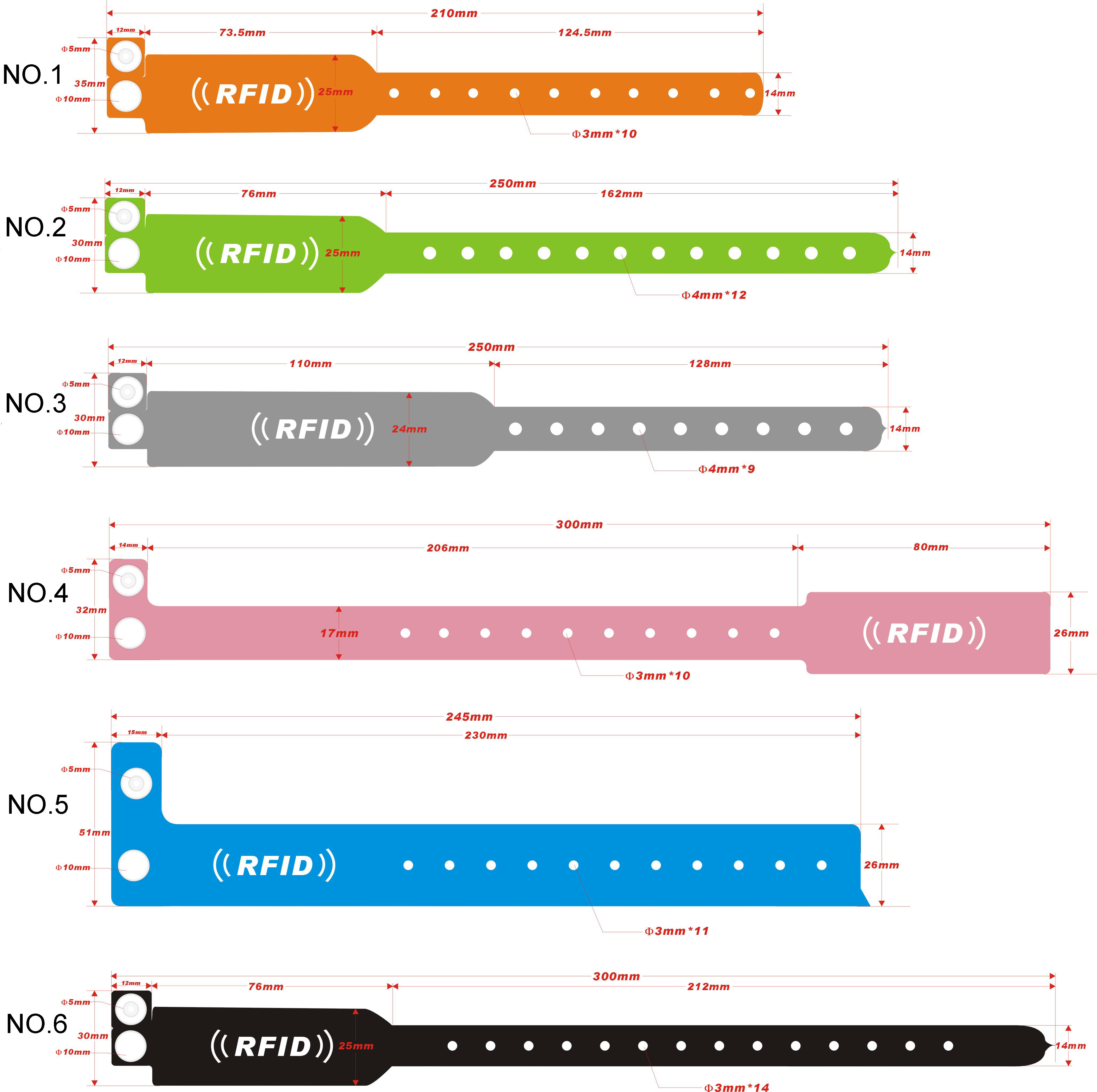 Specification:

Material: PVC

Sizes (Inner Diameter): Adjustable

Colors: Red, Pink, Blue, Green, Black, White, Yellow, Orange, Purple or custom pantone colours

Personalized: Logo printing, Serial number, QR code or Encoding etc

Storage temperature: -30 to 60 degrees C

Operating temperature: -30 to 60 degrees C

Operating Frequency: LF(125KHz), HF(13.56MHz) or UHF(915MHz)

Available RFID Chip types:

125 KHz Low Frequency

TK4100 ISO/IEC 18000-2
T5577 ISO/IEC 18000-2
EM4100 ISO/IEC 18000-2
EM4200 ISO/IEC 18000-2
EM4305 ISO/IEC 11784/11785
Hitag 1 ISO/IEC 11784/11785
Hitag 2 ISO/IEC 11784/11785
Hitag S256 ISO/IEC 11784/11785
Hitag S2048 ISO/IEC 11784/11785

13.56 MHz HF TAGS

Mifare Class 1k S50 ISO/IEC14443A
Mifare Class 4k S70 ISO/IEC14443A
Mifare Desfire 2k D21 ISO/IEC14443A
Mifare Desfire 4k D41 ISO/IEC14443A
Mifare Desfire 8k D81 ISO/IEC14443A
Mifare Ultralight EV-1 ISO/IEC14443A
Mifare Ultralight C ISO/IEC14443A
F08 (Mifare 1 Compatible) ISO/IEC14443A
F32 (Mifare 4K Compatible) ISO/IEC14443A
I-CODE 2 ISO/IEC 15693
I-CODE SLI ISO/IEC 15693
I-CODE SLI-X ISO/IEC 15693
I-CODE SLI-S ISO/IEC 15693
I-CODE ILT ISO/IEC 15693
SRI 512 ISO/IEC 14443B

NFC chip:
NTAG 203 ISO/IEC14443A
NTAG 213 ISO/IEC14443A
NTAG215 ISO/IEC14443A
NTAG 216 ISO/IEC14443A


915MHz UHF TAGS

Alien Higgs-3(ALN-H3) ISO/IEC1800-6C
Ucode Gen2 ISO/IEC1800-6C
MONZA 4 ISO/IEC1800-6C
MONZA 5 ISO/IEC1800-6C

Applications: One-off PVC RFID bracelet is a waterproof RFID transponder . Available in kinds of Proximity chips, NFC chips with attractive colors and sizes . These wristbands used for one-off RFID access control in resort, Sauna, SPA. Trade show badges, marketing events and membership. Music festival water parks cashless payment and brand promotion base on NFC function.

Related One time use RFID wristbands:
Single use RFID Tyvek wristband Single use RFID paper wristband Single use RFID Fabric wristband
NUBIAN INTERNATIONAL RFID product customization and manufacturing services. Providing PVC cards, RFID contactless cards, RFID takens, RFID wristbands, RFID keyfobs, tags & lables and RFID antenna customization.
Our mission is to offer highly competitive worldwide pricing backed up with exemplary quality and service that is unrivalled in the RFID industry.